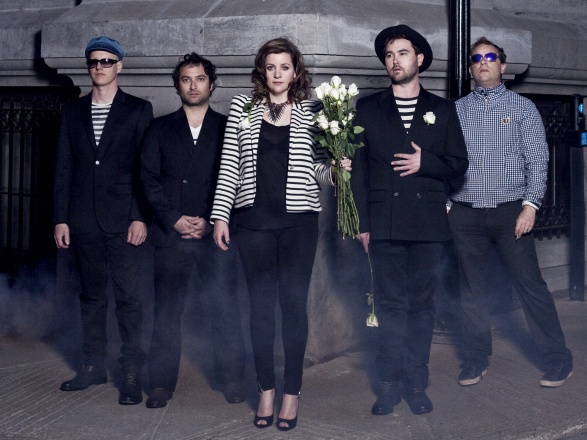 Stars will be appearing next Friday, 9.27 at Mr Smalls Theater in Millvale. The quintet is touring behind their latest LP
The North
released last September 2012. The Montreal based band sixth full length album is one of their best to date. Even though they play low fi indie pop, they put on a spectacular show. Trust me, I have seen them quite a few times and they have yet to disappoint. We are happy to be giving away a pair of tickets to the show. As usual just email us at
pghmusicreport@gmail.com
to enter.
Canadian band is back with their sixth LP of beat-ific indie rock re-imagined as synthy, effervescent alt-pop...the successor to 2010's fine
The Five Ghosts
was produced by Graham Lessard and Marcus Paquin (Arcade Fire) along with the band...DC fave Amy Millan and Torquil Campbell share the vocal spotlight...Says Campbell: "The overarching idea was let's make some really great songs, and let them stand on their own, and they'll have a common vibe." // Release: The North (September 4, ATO) // Sounds like: like their fellow Canadians Metric, Stars don't shy away from big, proudly un-ironic melodic dance floor anthems, 80's dance beats melded with hook-heavy synth-pop and the random jangling guitar riff...the key is Stars' refusal to be pigeon-holed into one simple stylistic box: this is grandly imagined pop the veers nimbly from sweeping balladry to dynamic 80's-influenced "new wave" pop to radio-friendly booty beats...


Quote: "I think this is kinda an attempt—a successful one—to just make a pure Stars record, to take all the themes that we've dealt with over the years, and all the sonic ideas, and express exactly who we are as a band and what we've arrived at as our sound and our story. For me, the record is less on the nose than the other ones are. And that's why it's better, really." - Torquil Campbell to Under The Radar // What We Like: As we've said earlier, not many indie-hipster outfits can reveal the sweetly romantic, soul-baring emotionalism that Stars make an integral part of their music...and maybe that's what makes their songs so appealingly different..."Hold On When You Get Love" is a good indication that the band hasn't lost the ability to craft a near-perfect radio song (assuming, of course, that you're radio is circa 1982)..."Backlines" sizzles, pops and fades out quickly like a summertime sparkler," says NPR. "With a running time that barely exceeds two minutes, it hardly bothers to clear its throat before bursting to alternately woozy and spiky life."
Show begins at 9p with doors at 8p. Tickets are $25 and can be found
here
.